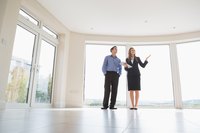 If you live in a large city such as New York, Chicago, Philadelphia or Los Angeles, you might need to retain the services of a real estate professional to help you find an apartment to rent. City markets are often highly competitive, with landlords having the upper hand because the pool of available residential properties is limited, so tapping the resources of a real estate agent who specializes in apartment rentals can give you an advantage. In fact, some landlords insist that potential tenants first be screened by an agent before they will be shown an available apartment.
Instructions
Find a real estate agent who specializes in rentals. Explain what type of housing you are looking for, and ask the agent about available apartments. Ask for references, and call these people to find out if they were satisfied with the agent's service. Finally, ask about costs, including commission, application fees and security deposits.
Review apartment listings. If you already have a neighborhood -- or even an address -- in mind, tell your agent. If you are unsure of where you want to live, your budget will help your agent target properties within your range. The more specific you can be about what you want, the easier the search will be.
A real estate agent can help you gain access to an apartment and, if you like the place, negotiate on your behalf. This might include obtaining more favorable terms, such as a smaller security deposit or a credit to have floors redone, walls painted or other changes made to the apartment before you move in.