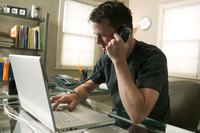 Working from home has many benefits: You can save money on commuting and have the flexibility to spend time with your family. Common positions that allow you to work from the comfort of your home include writing, editing, data entry and customer service. More companies are beginning to outsource customer service to work-at-home agents.
Arise Virtual Solutions, Inc. is a large provider of virtual business services. The company serves as a middleman between you and reputable companies such as Barnes & Noble, Sears, Apple and Disney.
Things You'll Need
Sign up with Arise to receive an ID number. The ID number allows you to check the status of your application.
Take the Ideal Match assessment. Once you have been accepted, you will be invited via email or phone to take a 45-minute online assessment. The assessment will evaluate your computer proficiency, business judgment, data entry, voice proficiency and business acumen. There is no pass or fail. The assessment is only used to identify what client job would best fit your skills.
Order a criminal background check. You will be required to pay for a background check, which costs $13 to $17. Once you have taken the assessment, you will be guided through the process of ordering a background check, and, per your permission, the results will be delivered to Arise.
Enroll in the Arise Certified Professional (ACP) 101 course. This is a 10-day course that serves as basic training for customer service professionals. The cost to take the course is $49. You must pass the course to begin working as a home customer service agent.
Establish your customer service business. If order to be a legitimate at-home customer service agent, you will need to register yourself as a home worker. Visit the IRS website and register as a corporation. Then visit your state's official website and locate the section for filing articles of incorporation. Fill out the paperwork, print, provide payment and send this in. The fee will be roughly $100 to $150. It normally takes five to 10 weeks to receive your official incorporation letter.
Set up your home office. You should have a computer with the required specifications assigned to you by Arise. The company will send you an email providing a link to all the materials you need. You will need a quiet workspace, high-speed Internet, a designated landline, a bank account to accept direct deposits and a headset.
Select your client. You are now ready to begin training for your first job. Login to the Arise website and select your first client from the list of available opportunities. Once you have selected your client, you will attend a training course that will prepare you for handling customer calls.
Work as an Arise home agent. With Arise you are in business for yourself. Make your own hours and receive biweekly paychecks from assisting your clients with their customer calls.