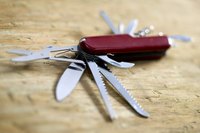 Customized Swiss Army knives work well as business gifts, promotional tools or as congratulatory gifts for high school or college graduates. You can order Swiss Army knives engraved with the text or initials of your choice, often in the color of your choice. If you give Swiss Army knives engraved with your business name as gifts, people will remember your company or product every time they get out this useful tool.
Choose a store from which to order your engraved Swiss Army knife. Compare prices at online engraving stores, and browse the selection at a variety of sites. Look at gunthergifts.com, swissknifeshop.com, absorbentprinting.com or 4imprint.com.
Select a Swiss Army knife model from the available options. You might be able to choose between a classic knife and one designed for golf, camping and hiking, or Boy Scouts. Some knives come with lights as well.
Enter the text or initials you want engraved on the knife. Most sites will allow you to enter a line of text for the front of the knife as well as one for the back. If you are ordering multiple knives with different initials or text, enter the text for each one individually and add it to your cart.
Choose a font and a color for the text if the site has multiple options.
Specify the quantity of Swiss Army knives you want to order.
Proceed to your cart and enter payment and shipping information to complete the purchase.