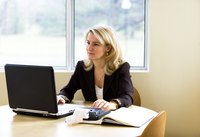 Changing from an accrual basis to a cash basis accounting method is something that needs serious consideration. Accrual-basis accounting allows for receivables and payables, meaning revenues and expenses that are not actually paid are counted toward the net profit and loss of a business during an accounting period. With cash-basis accounting, only cash on hand and expenses paid with cash during the accounting period are counted toward the business net worth. However, if the business owner desires to do away with accrual methods and deal only in cash, steps can be followed to allow for the switch.
Bring all accounts current. If the business has account receivables (for example, the business offered its customers 90 days to pay), these accounts will have to be paid in full. Also, if the business owes money for products or services, these expenses will have to be paid as well.
Close all receivable and payable accounts. The accounts will have to be closed out using a reversal entry at the end of the accounting period. This is actually no different than a regular reversal entry that is done monthly, but a note should be attached stating the accrual method is no longer being used.
Begin using the cash-basis method. From now on, only revenues and expenses incurred during the accounting period will count toward the that period's accounting statements. It is best to make this change at the end of a fiscal year for simplicity purposes.
Contact the IRS and alert it to the accounting change. In some instances, the IRS will not allow the switch. For example, if accrual-basis accounting offers a more accurate picture of business income, the IRS can require you continue to file your tax returns on an accrual basis. However, you can still use cash basis accounting for the business' day-to-day operations.