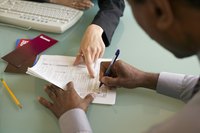 If you receive a notice from the Illinois Department of Revenue or your county treasurer's office informing you of outstanding tax due, you owe back taxes. The Department or Revenue will send you a tax bill stating the amount due, from what year, and the penalties and fines for failing to remit payment on time. The department can collect the tax a number of ways, including by placing a lien on your personal property or garnishing your wages.
Things You'll Need
Your income tax records
Notification letter from the state or your county
How to File Illinois Back Taxes
Review your tax records. Compare them with the information in the back-taxes letter from the state. If you think the bill for back taxes is an error, contact the Illinois Department of Revenue. However, if your tax records are incomplete or incorrect and you owe income taxes, you may have to file outstanding tax returns or other documentation. If you owe property taxes, check your payment record for errors. Gather your property tax records and contact your county treasurer if you need to discuss the matter.
File outstanding tax returns and related documents. If you did not file Illinois income tax returns, you may file late with form IL-1040 for the corresponding year. You can access prior-year income tax forms through the Illinois Department of Revenue website (http://tax.Illinois.gov/taxforms/prioriit.htm). The state income tax forms currently available are for years 1997-2008. If you owe local property back taxes, contact your county treasurer's office to clarify errors, pay the outstanding tax, or make other arrangements. You can find contact information and the websites of all counties in Illinois through the Illinois Department of Revenue. If you contact your county treasurer you must have your property PIN number. It's in your deed and in your notice letter.
Make arrangements to pay the outstanding tax. Do so without delay to mitigate the potential for further collection from the state, and to avoid steps such as a lien on your property or wage garnishment. If you arrange to pay the back taxes in payments, you may have to pay additional fees, and possibly penalties.