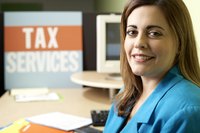 Cashing in your Simplified Employee Pension Individual Retirement Account, or SEP-IRA, is procedurally simple, and usually little different from cashing in any regular taxable investment account. However, there are a number of penalties and taxes associated with withdrawals from a SEP-IRA that are distinct from regular investment accounts, and which can be severe. Additionally, as the intent of a SEP-IRA is to provide you with long-term retirement savings, you should consider withdrawals from your SEP-IRA as a last resort
Acquaint yourself with the penalties and taxes associated with cashing in your SEP-IRA. Although you are free to access the funds in your SEP at any time, there are deterrents to withdrawing the assets. For starters, a SEP-IRA is a tax-deferred account, meaning that all of the assets in the account have never been taxed. Thus, if you cash in your SEP, all of the income you withdraw is immediately taxable. If the value of your SEP is sizeable, not only will you be facing a steep tax bill, but you may also bump yourself up into a higher tax bracket. Additionally, if you are under the age of 59 1/2, you will have to pay the IRS a 10 percent penalty tax on the amount of your withdrawal.
Contact your SEP-IRA administrator. Inform them that you wish to close out your SEP. Usually, this will involve liquidating all of the assets in the account, so try to choose a time that is advantageous in terms of your investment returns. You may also want to ask if there will be a fee involved in cashing in your SEP. Generally, you will pay commissions on all of your sale transactions, and if you close your account, there may be an associated fee. If you plan to keep your liquidated funds, you may have to absorb the fee, but if you intend to rollover your assets into another IRA, you may be able to get the new IRA custodian to reimburse you for the fee.
File your taxes. At the end of the year, you will receive a Form 1099-R from your SEP-IRA custodian. The 1099 will list the total amount of your distributions. As this information will also be reported to the IRS, you are required to report it as well when you file your Form 1040. Enter the amount from line one of your 1099-R, "Gross Distribution," on line 15a of your Form 1040. List the taxable amount from line 2a of the 1099-R on line 15b of your 1040. If the box "taxable amount not determined" is checked on your 1099-R, you may want to consult with a tax adviser. However, in most SEP-IRA liquidations, the entire amount of the distribution will be taxable. If you are under the age of 59 1/2, you will also have to list your 10 percent penalty tax on line 58 of your Form 1040.