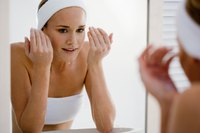 Blackheads are unsightly, and as luck would have it, always seem to occur right before that big event. There are plenty of over-the-counter products available to deal with blemishes, but common sense and some tried and true home remedies will clear your skin in no time. Of course, if all else fails, a dermatologist can provide you with topical and oral medications to treat your skin.
Things You'll Need
Mild facial soap
Earwax remover
Cold cream
Blow dryer
Iodine
Epsom salt
Wash your face no more than twice a day with a mild soap to remove excess oil. The skin naturally produces oil, and over-cleansing it may stimulate the sebaceous glands to produce more sebum (oil). Establish a morning and nighttime regime to keep the oils at bay.
Try ear wax remover, available at most drug stores, to bubble up oils trapped under the skin. Apply the remover to the affected area, let it sit on the skin for two minutes and rinse. This treatment will leach the extra oils out of your skin that would otherwise be clogging your pores.
Try a deep-cleaning facial with cold cream. Apply a layer of cold cream to the face, and then use a blow dryer to heat the cream for two minutes. Then, wipe off the excess cream, and rinse. This method will draw the excess oils to the surface of the skin by binding with the heated cream.
Add 1 tsp. of Epsom salt and 3 drops of iodine in 1/4 cup of boiling water. Apply to the affected area with a cotton ball after it cools to a comfortable temperature.
Consider topical products that contain alpha hydroxy (glycolic) or benzoyl peroxide. Neutrogena has a product that refines pores using alpha hydroxy, and you can find benzoyl peroxide in most over-the-counter products on the market for treating acne.