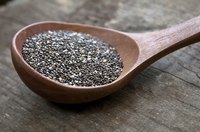 Ask your veterinarian about chia seeds as a nutrient-rich source of fiber and fatty acids for your dog. If she concurs they're worth a try, start with a few sprinkles soaked in water or broth and add to your dog's food to gauge his tolerance. Gradually increase to one-quarter teaspoon for every 10 pounds of your dog's weight. This translates to approximately 1 teaspoon for most small breeds and 2 teaspoons for larger dogs. You can top dress the seeds on wet food without soaking as long as your dog has constant access to fresh water.
The Nutrition of Chia
Chia is high in essential fatty acids omega-3, -6 and -9, but without the malodorous quality of fish sources that some dogs may find objectionable. Since it is so high in omega-3s, however, ask your veterinarian about an omega-6 source to balance this high content. The small daily dose of chia seeds also provides your dog with calcium, iron, magnesium, phosphorous, potassium, copper and zinc.
Internal and External Benefits
Dogs with bowel and anal gland issues may find relief through chia's high fiber content. You may notice less stiffness in your dog's joints, and a healthier coat and skin. Chia also promotes overall growth and development of both body and brain, supports a healthy immune system and may help your dog's vision. Dieting dogs are likely to feel less hungry with chia in their diet, but without losing energy throughout the day.