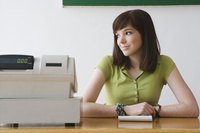 A point of sale system, also known as a POS system, manages the sale of retail items. It tracks what was sold, which employee sold it and what items are most popular. Having the right POS system helps boost your profits, increases your efficiency and gives you total control over your business operations. POS systems, unlike cash registers, provide you with detailed business reports that you can use to help make decisions in the future. Switching from a cash register to a computerized POS system provides you with an excellent return on investment. To make sure you get the most bang for your buck, however, compare POS systems before you buy so you get exactly what your business needs.
Determine which type of POS system you need. There are two main types of customers who use POS systems: retail business and hospitality operations (for restaurants and hotels). Determine which category best fits your business services.
Compare POS system software features such as inventory tracking and customer data collection. Some have Internet data boards that allow you to track business returns on the web at any point during the day. Others have multimanagement software that allow you to vary parameters in different locations. Prices of POS system software vary greatly depending on what you want your POS system to do.
Familiarize yourself with the differences between touch screens and traditional CRT monitors with keyboards. Choosing POS system touch screens means you'll pay more, because flat-panel LCDs cost more than traditional monitors, but touch screens last longer, take up less space and use less electricity. A keyboard is great for use in places like the grocery store, where sometimes you need to enter product information manually. Some POS system keyboards come with a magnetic stripe card reader built-in.
Add features to your POS system to increase efficiency among your employees. Barcode scanners are a quick way to improve accuracy and speed while the customer checks out. Using PDA system handheld devices allows you to use a PDA to wirelessly transmit an order back to the office. Features like these do add to the cost of your POS system, but you may get your money back on the improvements it makes to your office.
Find POS systems that offer technical support and a warranty. The standard warranty for a point of sale system is one year. In addition to a warranty, it may be worth the money to buy a POS system that comes with 24/7 telephone or Internet support in case you run into any technical problems. If the problem is too much for you to fix, in-person support is great to have when you need it.