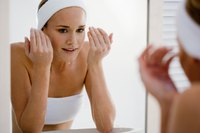 Flat warts on the face are growths on the skin caused by Human Papilloma Virus (HPV). HPVs produce proteins that interfere with cell function. This virus is transmitted through contact with someone else who already has it. Flat warts are smaller and smoother than other warts and are more common in children and teens.
Things You'll Need
Salicylic acid
Dimethyl
Banana peel
Vitamin C tablets
Water
Garlic
Try some over-the-counter medications. Salicylic acid is found in most medications. The salicylic acid helps to remove dead skin cells of the wart, causing it to fall off. It can be found in the form of a liquid, gel or invisible strip placed over the wart. It will take several weeks. A freezing method using dimethyl is another over-the-counter wart remover. This method usually comes in a canister with single-use tips for freezing off the wart.
Tape a small piece of the inside of a banana peel to your wart and go to sleep with it. Do this every night for two weeks.
Crush a vitamin C tablet and create a paste by adding a small amount of water to it. Apply it to your wart every day for two weeks.
Apply some crushed or sliced garlic to your wart before you go to sleep every night for a week.
Consult a physician or dermatologist if the warts cannot be removed with self treatments. The doctor will use stronger chemicals such as podofilox, topical podophyllum and trichloracetic acid (TCA). The doctor may also freeze the wart with liquid nitrogen; use cryotherapy, which is burning the wart with an electric needle; or use laser treatments.