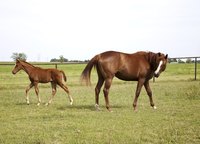 When a foal reaches the age of 6 months or so, he's ready for weaning. It can be a bit of a traumatic time for mare and foal, but they'll both get over it. Unlike the foal, the mare experiences a physical issue she must adjust to at weaning time -- the cessation of milk production. Getting a horse's milk to dry up consists primarily of feeding changes.
The Weaning Process
Even though a mare isn't producing nearly as much milk as she did immediately after her foal was born, she's still lactating at weaning time. An exception is when weaning occurs because the mare has dried up. Expect the mare's udder to fill for a few days after weaning, but resist the urge to milk her. Doing so only prolongs the process. If left alone, she should dry up within a week or so post-weaning. While you shouldn't milk her, you should inspect her udder for signs of mastitis, or inflamed mammary glands. Beside pain, signs of mastitis include a hard, hot udder. Call your veterinarian if you suspect your mare has mastitis.
Grain Reduction
During her pregnancy and while she's feeding her foal, a mare requires more grain than normal. As weaning time approaches, start reducing her grain. She won't be eating for two much longer. Reduce her grain further at weaning, back to the amount a normal non-pregnant mare of her size and workload requires. Feeding less grain reduces production of milk and eases the drying-up process.
Out to Pasture
Many mares require no, or very little, grain after weaning. If yours is not in any sort of work or exercise program, put her to pasture post-weaning or just feed her hay. That gives her sufficient energy to maintain body systems but not enough energy to continue milk production, according to Dr. Carey Williams, equine extension specialist at New Jersey's Rutgers Cooperative Extension Service.
Nurse Mares
If your mare's foal dies, you're probably heartbroken and want to get the mare dried up as soon as possible so both of you can move forward. While that feeling is understandable, there's another alternative. Local equine veterinarians might know of a foal who lost his mother and needs a nurse mare. While it's possible to bottle-feed orphan foals, mother's milk is better for them and much easier on the caregivers. Foster nurse mares can teach their charges how to behave like horses, an invaluable gift for orphaned foals.