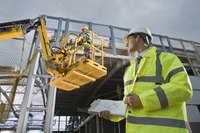 Terminating a construction contract can be tricky. It must be done under the right terms and legally. There are usually questions surrounding whether or not a client has good reason to terminate the contract.
Things You'll Need
Notice of contract termination
Determine whether or not there is plausible cause to terminate the contract. Plausible cause is for something like default on the contractor's end. The contractor is allowed reasonable excuse for failure--however, if no reasonable excuse is found for why the contractor could not or did not complete the contract, the contract should be served with the proper notice.
In some states, a verbal contract is still a legal contract. For example, if a contractor makes a verbal agreement with a customer over a business transaction, it may be a valid contract . A verbal contract must include an offer, acceptance of the offer and consideration of the offer in order to be valid contractually. A verbal contract is also very easily contested, even though many states still consider them to be a valid form of a contract. It is important to determine whether or not your state is a state that recognizes a verbal contract as a legal contract before proceeding.
Once default has been determined, serve the contractor with a 28-day notice, also referred to as a Notice of Termination or Notice of Suspension. The notice must oftentimes be filed with the clerk of courts in order to be valid and enforced, but it allows the contractor 28 days to respond to the situation or problem (or to get the job or task completed) before the contract is terminated. Contact local state agencies to find out what notices are appropriate and required, as well as what steps to take to process these notices. Follow through with all necessary paperwork, according to your local court or state agency.
After the appropriate steps have been taken and notices have been served, according to your county or state laws and regulations, the contract can be terminated and the contractor should be notified in writing of the termination of the contract. If applicable, notices should be filed with the jurisdictional clerk or courts (this is usually by county).
It's important to understand the local laws and to take appropriate steps and measures. If each step is not followed, the termination may not be validated, even if you have a valid claim. The laws vary from state to state. If you are unsure of the proper steps, you may need to retain a lawyer to produce appropriate notices, as well as fight your claim. A lawyer can also tell you if you have a valid case. Appropriate notification must be provided to the contractor before a contract is terminated.