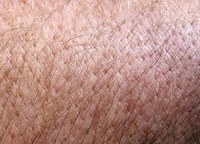 Dark or thick arm hair can be an embarrassment, especially during the summer months when it's too hot to hide your arms under long sleeves. Shaving and waxing your arm hair can cause ingrown hairs, cuts and nicks, unattractive razor stubble and rashes. Also, the arm hair often grows back faster and thicker than before. Dyeing your arm hair with the strong chemicals contained in commercial hair dyes can injure your skin. Consider lightening your arm hair, which is a painless and convenient solution to making the hair much less visible.
Things You'll Need
Rubber gloves
Hydrogen peroxide
Put on a pair of protective rubber gloves. Mix 6 percent hydrogen peroxide with ammonia in a bowl, adding 15 g of peroxide for every 10 drops of ammonia. Slowly add soap flakes to the mixture until it forms a paste. The paste should have a thick enough consistency to cover your arm hair without running or dripping.
Apply the preparation to your arm hair immediately after mixing it. Spread it out evenly until it completely covers the area you want to lighten. Leave the mixture on for 30 minutes and then wash it off with a strong soap.
Wait at least one day to repeat this arm hair lightening process if the initial results are unsatisfactory. Repeat on a monthly basis as the darker arm hair begins to grow back in.