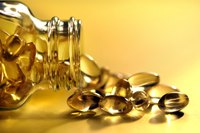 These days, most nutritionists and doctors agree that consumption of fish-based omega-3 fatty acids is beneficial to one's health. The nutritional supplement industry, however, is largely unregulated in general, and not all fish oils on the market are of the same quality. If you're taking fish oil omega-3 supplements on a regular basis, it's recommended that you test the pills or liquid supplement that you are taking to ensure its quality. Poor-quality fish oil is much less beneficial to your health and can even harm you. Testing fish oil is quite simple and doesn't require any scientific equipment.
Things You'll Need
Fish oil supplements
Freezer
Instructions
Check the expiration date on the fish oil supplement packaging. Fish oil that is well passed the expiration day will likely be rancid and thus ineffective. Rancid fish oil also causes foul, fishy smelling belches that you probably want to avoid.
Bite into a fish oil capsule or taste the oil if it is in liquid form. Fish oil has a bland yet distinct taste, but it should not taste strongly of fish. This is a sign that the fish oil has oxidized, making it rancid and thus no good.
Perform a freezing test. Poor fish oil into a small glass and place it in the freezer for six hours. Remove the glass from the freezer and grab a toothpick. Stick the toothpick in the now cold fish oil. Ideally, the toothpick should go in easily without much resistance and the fish oil should have a gelatin-like texture. If the oil is hard like ice and the toothpick will not pass through, it's probably very low quality. The oil probably contains a high concentration of saturated fats that you don't want.
Get rid of rancid or low quality fish oil. Purchase a fish oil that contains at least 60 percent of the fatty acids EPA and DHA, PCB levels less than 45 parts per billion, and low concentrations of dioxin and mercury. Ask your doctor or nutritionist for a recommended fish oil supplement if you are unsure about what to buy. While better quality fish oils can be more expensive, they are worth the price.