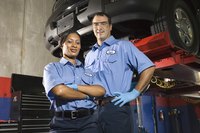 Classic car owners and muscle car enthusiasts will pay good money to professional auto shops that can restore their prized possessions. The restoration process can take months and many auto restoration shops have year-long waiting lists. If you've got the skills or know technicians who do and you know a thing or two about managing a business, starting an auto restoration shop has the potential to make you great money. There is a lot of legwork involved before you can open your doors; start with a business plan.
Things You'll Need
Liability insurance
Location
Sales tax permit
Federal tax ID
Auto shop license
Certified technicians
Storage containers
Metalworking tools
Paint booth
Paint supplies and tools
Lifts
Portfolio
Find a location for your auto restoration shop. If moving into an old garage isn't feasible, select properly zoned land in which to construct your shop. You'll need adequate ventilation and lighting, adequate bays, an area for sandblasting (indoors or out, depending on your state's requirement), a paint booth, parts storage room and upholstery room.
Hire ASE certified mechanics or trained auto restoration specialists experienced in custom painting and modifications. Obtain apprentice permits for technicians who lack the required on-the-job experience. If necessary, hire a restoration specialist to come to your shop and train your mechanics on restoration techniques.
Review and meet your state's requirements for becoming a licensed auto shop. Generally, you will need to obtain a business license, purchase liability insurance, obtain zoning approval, get a sales tax permit and federal tax ID, and provide proof that you employ certified technicians for each area or service you offer. Depending on your state, you may be eligible to conduct business while waiting for approval. Apply with your licensing department.
Get your auto shop inspection ready. Verify that your paint booth adheres to state air quality regulations and that you have a system in place for storing flammable or hazardous materials. Develop a contingency plan for spills, estimate forms, state-approved invoices and a price list. Label all chemicals and liquids. Adorn your walls with your permits (to include your shop license, once received), customer complaint procedures and your technician's certificates.
Procure metal-working tools, lifts, an air compression system, custom painting supplies, rust removers, sanders, sanding blocks, masking tape, chemicals, storage drums, in addition to general auto repair equipment and safety gear.
Take photos of your work and build a portfolio. Ask customers to act as referrals for new clients.
Get visibility for your auto repair shop. Advertise at car shows. Drive your cars in local parades. Attend school events.