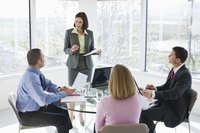 Defining your target market in your marketing strategy determines whether you are throwing marketing money away or if you are reaching a revenue-generating client and customer base in a way that will get results. While there are ways to market that can help you to reach several groups simultaneously, how you choose to target your activities toward your chosen group makes all the difference. It is hard to cleanly hit a bull's-eye if you are using a shotgun, but if you aim well, a focused bullet can hit the target cleanly every time. There are steps that will help you identify or redefine your target market and select how to pursue it in your marketing strategy.
Decide who has the problem that your product or service can best solve. It needs to be a pressing problem so that your target market has a need and will feel compelled to immediate action. Determine key identifying factors of this market, such as age, gender, income level, social status, geography, education and their life priorities.
Make sure your target market can afford your offering and that there is enough demand and market share for you to be profitable. Take the time to ensure that there is a long-term demand for your offering in this market so that you can continue to grow your business.
Get to know your ideal client - how they think, what is important to them, how they do business. What publications and organizations do they flock to? What kind of leisure activities do they pursue? How do they access information?
Build a team of people that can identify with and likes working with your target market. This will help you to stay focused on your market's mindset and to bring the right level of enthusiasm to your marketing and customer service. This team will know the language that your market uses that will convey your message most effectively.
Identify your unique value proposition and promote it by using it as the backbone of your marketing in a way that has value to your target market. What do you bring to your target market that allows you to meet their needs as no one else can? Show how this difference will positively benefit your market using a blend of fact and emotion.
Combine different marketing styles in a way that is directed specifically to your target market. You could mass market by running television advertising using particular language that will resonate with your target market while also doing pinpointed marketing to publications that cater to your market. You could market directly to individuals through promotions involving personal contact while running a booth at a trade show.
Create a system for measuring your marketing's effectiveness in reaching your target market. Keep track of client demographics to make sure that you have targeted the right group and that you are getting the message across in the right way. Get in the habit of asking questions of your clients that help you keep the right strategy.