Beef steaks rule the summertime grill, but they're not the only game in town. In fact, game -- in the form of bison steaks -- makes one of the finest alternatives. Bison are steer-sized and are cut the same way, so you won't need to learn new names for your favorite steaks. On the other hand, bison doesn't cook in exactly the same way as beef, so you will need to adjust your grilling technique to match its nuanced characteristics.
(Pamela Follett/Demand Media)
Beef cattle are bred selectively for their ability to pack on fat, a tendency that's accentuated by the grain-rich diet they're given at the feedlot. This means the beef is well-marbled, with plentiful seams of fat running through your steaks. That's not the case with bison, which is very lean. This is important because fat is an insulator, protecting your steak from overcooking and keeping it moist. To compensate for that lack of marbling, you'll need to cook your bison steaks at a lower temperature and for a shorter time.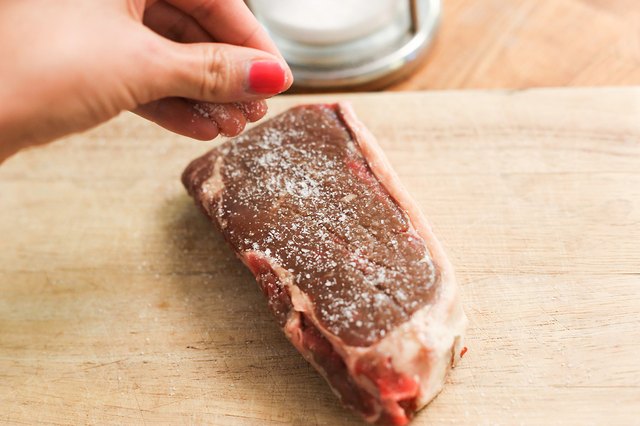 Pamela Follett/Demand Media
Season your bison steak simply, sprinkling it with coarse salt at least 45 minutes to 1 hour ahead of time. This provides adequate time for your steak to absorb the salt and be seasoned from within, rather than simply having a salty surface.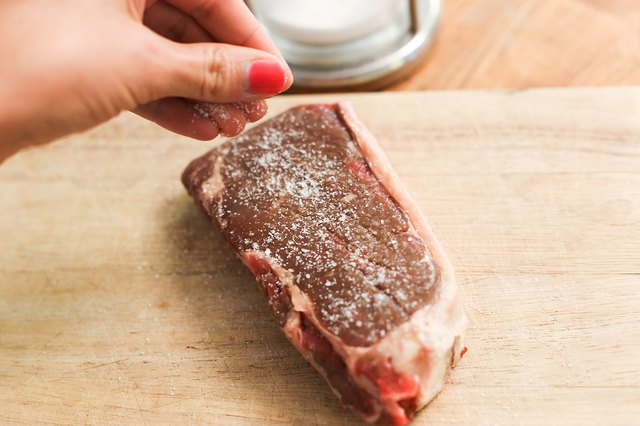 Pamela Follett/Demand Media
Light your grill and bring it to a temperature of 300 to 325 degrees Fahrenheit. If you're using charcoal, let the coals burn down past the normal grilling stage, until the coat of ash slightly obscures their red glow.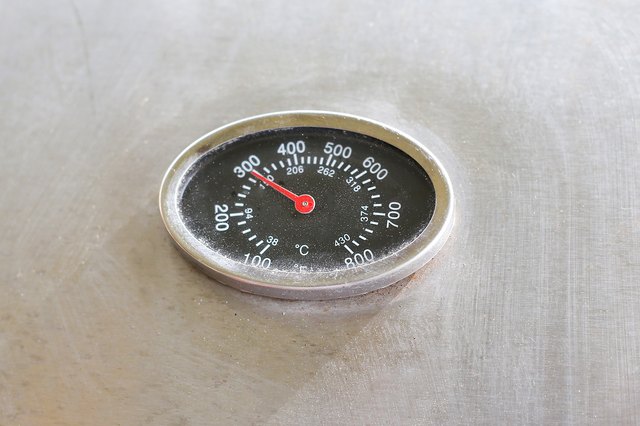 Pamela Follett/Demand Media
Grill your steaks for 6 to 18 minutes, depending on their thickness and the degree of doneness you're looking for. Turn them regularly during their cooking time, so they'll cook evenly without one side becoming overcooked and dry.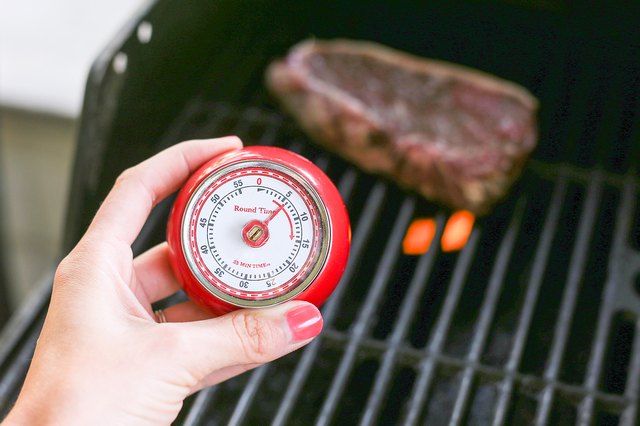 Pamela Follett/Demand Media
Test your steaks for doneness with an instant-read thermometer. Bison is juiciest and tastiest at medium-rare to medium, or an internal temperature of 125 to 135 F. When cooked past medium and into the well-done range, bison tends to become dry -- because of its lack of insulating fat -- and can also develop odd, liver-like flavor notes.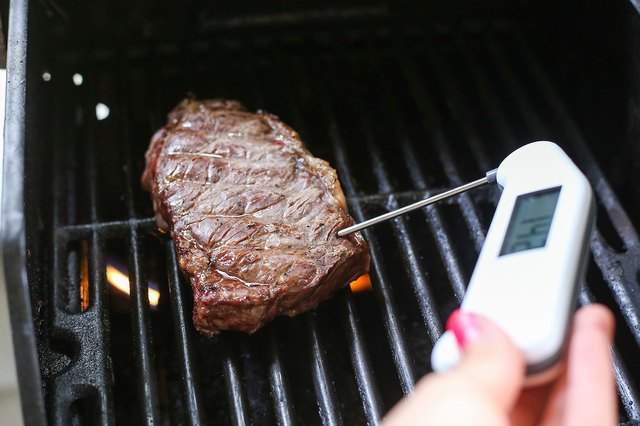 Pamela Follett/Demand Media
Remove your bison steaks from the grill when they've reached the correct temperature and rest them for a few minutes before serving on a cutting board or preheated plate.
Pamela Follett/Demand Media
• Rather than cooking your steaks entirely at moderate heat, an alternative technique calls for one side of the grill to be hot and the other to be much cooler. Sear your bison steaks on the hot side of the grill, either at the beginning or end of your cooking time, and do the bulk of your cooking on the cool side with your grill's lid down.
• If you normally tart up your steaks with marinades, sauces and spice rubs, give those a rest the first few times you cook with bison. It has a more delicate flavor than mainstream beef, and since you'll probably pay a premium for bison, it makes sense to appreciate it on its own merits. Once you're more familiar with bison, you'll be better able to select seasonings that complement but don't overwhelm the meat.
• The Bison Council suggests that reducing your cooking time and temperature by one-third is a useful rule of thumb for novice bison cooks.
• Bison is very different from mainstream beef but surprisingly similar to grass-fed beef in its cooking characteristics. If you frequently cook grass-fed beef, you can apply the same techniques confidently to bison.
For culinary purposes, bison is best served at medium-rare to rare. However, the U.S. Department of Agriculture suggests serving all game animals at 160 F or well done to minimize the risk of foodborne illness from bacteria or parasites. This guideline is most pertinent to wild-caught animals, though the USDA does not differentiate. As with rare beef or soft-yolked eggs, each cook or diner must decide whether to follow personal preference or the USDA's standards.
Promoted By Zergnet