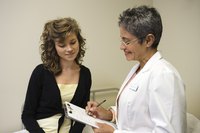 A slipped Lap-Band occurs when the portion of the stomach below the band slides up through the band, causing the upper stomach pouch to become bigger and the band to become tighter. A slipped band can be a very painful and dangerous condition. According to Allergen, the maker of the Lap-Band System, 24 percent of Lap-Band patients experience band slippage. Causes of a slipped band include eating too much, putting pressure on the stomach, or excessive vomiting. If you suspect your band has slipped, call your doctor immediately.
Pay attention to the way your body reacts to certain foods. The longer you have your band, the easier it will be to notice unusual symptoms. Indications of a slipped band include lightheadedness, nausea or vomiting, reflux and a feeling of pain or pressure in the abdomen. If you experience a combination of these symptoms, your band may have slipped.
Notice if the pain or pressure increases when you breathe deeply or lie down. Patients with slipped bands often need to remain in an upright position to avoid exacerbating their condition.
Tell your doctor if you are experiencing night coughs, which may be another indication of a slipped band.
Ask your doctor to perform a fluoroscopy, which is a type of x-ray that will reveal the position of the band.