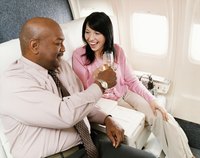 If you're taking a trip on an airline and want to upgrade your seat, you can do it one of two ways: You can either pay for it or have it upgraded automatically. The cost to upgrade varies by airline. If you are a frequent flyer or are part of an airline's reward program, you can have it upgraded automatically without an additional charge. According to moneysavingexpert.com, having your seat upgraded automatically does not happen often unless you are a member of one of these programs. If you do get an upgrade, it can mean more legroom, a seat that reclines more or a seat located close to an exit for easy boarding and exit.
Ask a friend who works for the airline for a seat upgrade. They may be able to pull a few strings and get you an upgrade automatically.
Use your title when booking. According to moneysavingexpert.com, if you are a doctor or reverend and it says so on your government-issued identification, notify the airlines when booking. Some airlines give upgrades to passengers who are doctors.
Notify the airline if you are flying somewhere for a special occasion. If you're flying somewhere for your honeymoon or anniversary, the airline may upgrade your seat automatically.
Fly alone. Traveling by yourself can increase your chances of having your seat upgraded automatically. It is easier for airlines to move one passenger than it is to move multiple travelers.
Join a frequent-flyer program. Programs vary from airline to airline, but if you build up enough points or miles, you can qualify for a seat upgrade automatically. You have to travel a lot to earn enough points for a seat upgrade.
Buy a full-price ticket on the airline's website. Full-price tickets have a special code that distinguishes them from discounted tickets or tickets purchased from a third party. People who pay full fare are more likely to receive an upgrade.
Check in early. Passengers who check in early for their flight are more likely to have their seat upgraded.