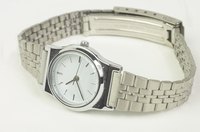 You might not have a clue how to fit a Fossil watch, even though the tag on the watchband says "Sizing Made Simple." Unlike most metal watchbands, Adjust-O-Link or Smart Link Fossil watches are designed so that the friction pins in the watchband are removable from either side. This is why Fossil advertises "Sizing Made Simple," although fitting them isn't so simple. It is important to properly fit the Fossil watch, since some won't work correctly when worn too loose.
Things You'll Need
Watch band pin remover (also known as a pin press)
Needle-nose pliers (small, precision tip)
Tabletop vise grip
Finishing brad nail
Hammer
Place the Fossil watch on your wrist. Pinch the watchband around your wrist to see how many links are necessary for a proper fit. The excess links that aren't pinched are dangling and easily identified for removal.
Make a mental note about how many links you need to remove or mark the unnecessary links in some way. Take off the watch.
Read the instructions on how to use the watchband pin removing tool. Place the tool on a flat and steady surface.
Loosen the set screw that secures the vise pin in place. Insert the vise pin into the watchband pin press tool.
Tighten the set screw so that it secures the vise pin in place. Place the watchband onto the spring-loaded pad of the watchband pin press, so that the pin hole of the link you're going to remove is lined up with the pin of the vise pin press.
Turn the knob of the pin press slowly, so that the vise pin is pushing straight into the friction pin in the watchband.
Continue pushing the vise pin until it is at its maximum reach into the watchband. Finish removing the friction pin with a pair of precision-tip needle-nose pliers, carefully pulling it straight out without bending.
Remove the link from the Fossil watchband. Repeat this process if you need to remove more than one link.
Line up the holes of the links to be put back together, so that the friction pin goes straight in without bending. Push the friction pin by hand part of the way into the links.
Return the watchband to the pin press when you have enough clearance between the partially inserted friction pin and the vise pin. Use the pin press to finish pushing the friction pin into the links. The watch is now fitted.