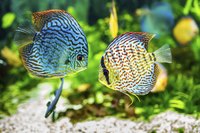 Treating fungal infections in aquarium fish can be challenging and may not always be successful. However, the best results come when the infection is caught and treated early. Fungal infections require different treatment methods because they are caused by different types of spores. Learning how to spot the signs of different fungal infections is an important step in treatment.
Things You'll Need
Hospital tank
Phenoxyethanol
Determine whether the infection is caused by bacteria, parasites or fungi. Before you can treat your fish, you need to narrow the cause so rule out bacterial or parasitic infections. The most common signs of fungal infections are unusual and erratic swimming, growths on the body and scratching. A lack of appetite, poor breathing, inflammation, eye bulging, bloating and inactivity are usually signs of another type of infection.
Determine the type of fungal infection. Cotton wool disease occurs most commonly. This infection causes white fluffy growths on the fish, particularly around the fin, the mouth and areas previously affected by parasites. Gill rot, another fungal infection, happens less often but can be more dangerous to your fish. Mucus builds up over the gills making breathing difficult. Egg fungus grows first on unhealthy eggs left in the aquarium. If left untreated, the infection will spread to healthy eggs. Infected eggs will be covered by white fluff.
Separate infected fish or eggs from the healthy ones. Because fungal infections can spread among aquarium fish or their eggs, you should separate the ones showing signs of infection and place them in a hospital tank. The hospital tank is a separate aquarium containing only items that can be disinfected easily so the spores will not spread to other fish or grow in the hospital tank. Fish should be removed carefully from the main aquarium and placed in the hospital tank. Allow the fish to settle into the new tank before beginning treatment. In the case of egg fungus, those eggs need to be removed with forceps from the main aquarium and discarded. Infected eggs cannot be treated so you need to prevent the infection from spreading to healthy eggs.
Use appropriate treatment for the fungal infection. For gill rot, give your fish repeated baths in phenoxyethanol. Also, be sure to maintain a high oxygen level in the hospital tank during treatment. For cotton wool disease, you can carefully give phenoxyethanol baths. You also can apply gentian violet, an antifungal agent, to the affected fish.
Disinfect the main aquarium. Because fungal infections, particularly cotton wool disease, are highly contagious, you also should disinfect all of the gravel, plants, decorations and rocks in the main aquarium to prevent infections in your healthy fish or re-infections in your treated fish once they are returned to the main aquarium.