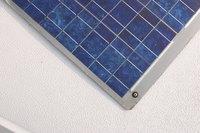 Solar power continues to grow in popularity as home and business owners look for ways to utilize clean energy and control energy costs. Solar installations in 2008 jumped 81 percent over 2007 grid-tied solar power generation, according to the Solar Energy Industries Association. As an alternative energy source, there are government grants and rebates available to help home and business owners afford the installation of solar panels.
Research the solar panel market. Determine if solar power is a good choice for your region. Find out the best type of solar panels for your area of the country. Seek out all the different type of solar panel manufacturers. Reach out to state energy offices to find research data they have complied regarding solar panel use in your state. The Solar Energy Industries Association (seia.org) and U.S. Department of Energy Solar Energy Technologies (solar.energy.gov) websites are both good places to gather industry information.
Become certified as a solar panel installer. Green building events and local renewable energy offices offer training sessions on solar installation. Many solar panel manufacturers also provide training and certification on ways to properly install their solar panels. Certification information is available on the North American Board of Certified Energy Practitioners website (NABCEP.org).
Seek a location for your solar panel installation business. Make sure your business complies with local zoning restrictions if you plan to operate your business out of your home.
Choose the legal structure for your solar panel installation business. Consult a lawyer or the U.S. Small Business Administration for additional legal structure advice and information.
Establish a detailed business plan for your business. Your business plan should include long-term and short-term objectives, marketing plans and financial requirements.
Determine a name for your solar panel installation business. Use the Internet to research a variety of names and eliminate those that already exist. Narrow down your name choices and search the Federal Trademark Database (USPTO.gov). Pick the name you desire and secure the domain name.
Obtain financing and insurance for your solar panel installation business. You may also want to become bonded since you will be installing solar panels on residential and business properties.
Secure a business license, if required, and tax identification number.
Join the local homebuilders association and solar associations to become a featured solar installer listed on their membership directories.
Market your solar panel installation services to local builders, architects, renewable energy associations and real estate companies.