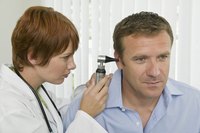 An earwax funnel is used to perform the holistic earwax removal method known as candling or coning. Ear funnels are made from natural materials like beeswax or paraffin wax and cotton, muslin, or linen. Ribbons of cloth are wrapped to form a funnel and then dipped in wax. One end of the funnel goes into your ear canal while the opposite end is lit on fire. As the funnel burns, gentle suction is created, which pulls debris and earwax out of your ear canal. When the flame gets close to the ear, it is extinguished and the remaining funnel removed from your ear. According to the Academy of Otolaryngology, ear funneling isn't safe to perform on yourself. Ear candling should only be done by someone experienced in performing the procedure.
Things You'll Need
2 thick towels or 1 metal pie pan
Glass of water
Ear Coning, Candling, or Funneling
Place all the items you'll need on the area where you'll be performing the ear funneling. You'll need one ear funnel per ear, a lighter, two towels or a metal pie pan with a hole cut in the middle, and a glass of water.
Lie down on your side with a pillow under your head or lay your head on a table with the ear you want to funnel facing up.
Cover all exposed skin around your ear, including your cheek and neck, with towels.
Alternatively, take a metal pie pan and cut a round hole in the middle big enough for the ear funnel to pass through. Place the pie pan over your ear so the hole in the pan lines up with your ear canal hole.
To avoid burns, it's important you cover all surrounding skin in case hot ash falls from the funnel or the funnel falls while lit.
Place the ear funnel no more than 1/2" into your ear canal. Hold onto the base of the funnel closest to your ear.
An ear funnel placed too deep into the ear canal will cause pain, bleeding, and could rupture your ear drum.
Use your other hand to light the end of the ear funnel furthest from your ear.
When you feel too much warmth on your hand or on your ear, pull the funnel out. Immediately extinguish the ear funnel in a glass of water.
Repeat the process on your other ear using a brand new ear funnel.