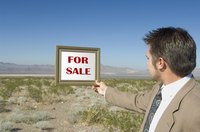 Many people dream of staking a claim to rural property: in the mountains, in the forest, by a lake, in a hidden valley. Anyone looking to buy cheap land in a remote area should remember the adages "you get what you pay for" and "caveat emptor." This dream can become real, however, with diligence, fact-checking and common sense. Failing personal responsibility for due diligence can have expensive financial and legal ramifications.
Things You'll Need
Internet access
Three-ring binder with dividers
Preparation
Decide how you will use the land: for recreation, retirement, a seasonal retreat or another reason. Determine what utilities the property will need. Will you want running water, indoor plumbing, electricity, public services, telecommunications or satellite access? Put the list in the first section of the binder.
Consider weather-related factors—including climate extremes—for the type of land you want. Will you want year-round or just seasonal access to your property?
Use maps to study the terrain, constraints and opportunities. Visit areas and walk the land, and talk with local officials and residents before making a final selection. Create a separate section in the binder for each area and parcel you are considering.
Create a checklist of information to be verified, and put one copy in each section of the binder. Questions to be asked include: Has the property been surveyed and verified with a recorded survey? Will utility, access or other easements be required? Does the title include timber, grazing, water and mineral rights? If not, who owns those unbundled property rights? Is safe, potable water available from utilities or on-site wells? If not, must it be trucked onto the property and is this allowed? What methods of sewage disposal are permitted? What is the typical success or failure rate of on-site disposal systems in the area? Is the property prone to flooding, landslides, avalanches or other weather-related disasters? What is the zoning? What uses are permitted in the zone? How are permits obtained? Are public hearings required before any changes are made to the property? What developments or entitlements are proposed in the surrounding area whether on public or private land? Are any special assessments or impact fees required? Before building a cabin or residence, can the land be used in any way on a temporary basis? Is the land being offered for sale legally subdivided?
Diligence
After settling on a location and land type, use Internet resources, local media and the local Multiple Listing Service to find land available for sale in the area. Use maps and other information to determine adjacent ownership—public or private. National parks, national monuments and state parks have restrictions on adjacent private lands. Otherwise, you have a "working" landscape that can be mined, drilled, grazed, farmed, developed or clear-cut. Adjoining property owners do not necessarily need to be notified before such activities begin.
Conduct all research on the real estate or hire a qualified professional to represent buyer interests. Verify all representations by sellers or agents, even when presented in writing. Ensure every question on the checklist has been answered and then verified.
Request a preliminary title report and a county-issued certificate or affidavit that the property was created in compliance with state and local regulations. This is called a certificate of compliance in most states. If you cannot obtain a certificate of compliance or similar verification from the local government, obtain a letter or other authorization signed by a responsible public official specifically spelling out the rights that come with the property.
Buying the land
Make the purchase offer contingent on written verification of all questions or questionable information. Whether purchasing the land directly or with an agent, require that the escrow be opened by a state-licensed company, usually a title company.
Before you close the sale, walk the boundaries with a licensed surveyor to ensure that the deed describes the land exactly as anticipated. As a landowner, you should know the legal boundaries.
At the time of closing, ensure that the final title insurance policy covers all expected perils, any representations are in writing and signed by seller and buyer, and no representations remain in a verbal status. Ensure that all expected rights are included in the sales.