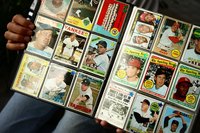 There is a long-standing tradition of collecting sports cards. From baseball to football, sports cards are beloved by sports fans of all ages. Individuals passionate about collecting sports cards are ideal for starting their own sports card business. Whether setting up an Internet business to sell sports cards or establishing a store front, starting a sports card business requires knowledge of the value of sports cards, attention to detail and a dedication to providing exceptional customer service to fellow collectors.
Things You'll Need
Research the sports card business. Check out the auction sites to see what sports cards are selling for. Visit the stores of sports card dealers. Talk to sports card dealers at conventions. Find out about competitors and their unique selling advantage or offerings.
Decide how you will obtain additional sports cards to sell. Develop an organization system for the cards you own and plan to sell so you can easily find them. Set aside some business profit to purchase cards that can be sold at a later date. Plan to visit flea markets, garage sales and online auctions frequently to find additional sports cards that are highly sought after by collectors.
Determine if your sports card business will be an online business or if you intend to sell in a store front as well. Pick a store location that is easy for customers to access. Decide if you will use the services of existing auction sites or build your own community Internet. Be sure to look into local zoning regulations if you intend to run the business out of your home.
Pick a legal structure for your sports card business. Discuss the legal structure options with your lawyer, visit a United States Small Business Administration office or a counselor at your local SCORE, a national association dedicated to helping small business owners form and grow their businesses.
Put together a comprehensive plan for your sports card business. Provide financial expectations and requirements, as well as long and short term objectives for the business. Identify the ways you plan to differentiate your sports card business from others in the marketplace.
Give the business a name. Brainstorm to come up with a variety of names for the business. With the list of names in hand, complete an Internet search on each of the names. Cross out any that are already in use. Once you find a name that is available, search for a Web domain for that name and register for the domain name. Also search for the name on the auction site you intend to use. Check the United States Patent and Trademark Office's federal trademark database and register the name on the website as well.
Determine if any financial assistance is required to get the business started. Apply for loans with a local financial institution or seek out available small business grants or loans.
Secure a federal tax identification number for the sports card business. Check to see if a business license is required as well.
Start to market your sports card business. Post inventory for sale on popular auction sites to begin attracting customers immediately.