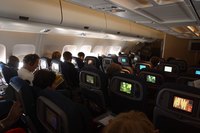 Your son has to have the window seat to see how high you're flying, your daughter is terrified of sitting next to strangers and you just want to have a cup of tea and relax for a couple of hours. Flying with families can be stressful, and being unhappy with the seating arrangements doesn't help. Use a little bit of planning ahead of time and you can make sure that everyone gets the seat that they want, both going to your destination and coming home at the end of the trip.
Buy your tickets online at the airline website. You can usually get a very good deal by purchasing at the website, and you'll have the opportunity to reserve your seats at that time.
Click on the button for choosing seats after concluding the ticket purchase. You will be taken to a diagram of the plane. The picture will indicate filled seats, free open seats and seats that are open but cost extra to reserve.
Click on the seat you wish to reserve for each ticket that you have purchased. It doesn't matter which name is assigned to which seat, as families are allowed to switch seats once they have boarded.
Check in at the kiosk at the airport if you haven't already reserved your seats or if someone in your party wants to change their seating arrangement.
Insert your credit card into the kiosk. Use the credit card that was used to purchase the plane tickets. Your credit card will not be charged, as this is only an identification measure to make sure that only the ticket holders can choose their seats.
Look at the diagram of the plane and choose your seat. Prices may have risen for reserving certain seats, or some areas may no longer be available. If you decide to stay with the seats that you already have, there will be no consequences.