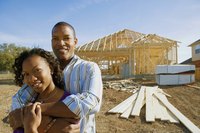 Many people interested in building a home must acquire a loan from a lender. This loan is often called a construction loan and is based on the value of the finished product. Once you are able to secure the loan, a builder is paid throughout the construction process. Construction loans are a bit more complicated than home mortgage loans and may involve some extra paperwork.
Things You'll Need
Employment records
Credit reports
Obtaining a Home Construction Loan
Find a lender that offers the construction loan you are looking to obtain, and speak with a broker who has experience in your area and with this type of loan.
Submit your Form W-2s, paycheck stubs, employer records and credit reports to a mortgage lender, so it can pre-qualify you for a home construction loan. This also allows the lender to inform you of the loan amount you may obtain.
Find a builder who is able to construct the home you want to build for the amount of money available through the loan. A builder needs to be approved by the lender and prove he has a strong reputation and is able to complete the project.
Give the lender the final plans of the home, which include estimates and proposals from the builder outlining the cost, timeline and payments needed over the course of the project.
Lock in an the interest rate for the loan. You may want to let it float to see if the interest rates go down, but once you find an acceptable rate, lock it in.
Complete any documentation for the construction loan and gain final approval from the lender. Some banks require that you obtain liability insurance for the construction. Once this is finished, the building of your home is ready to commence.