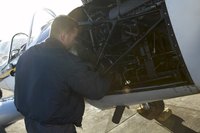 Corrosion of any part of an aircraft reduces its value, its appearance--and most important--its safety. The corrosion can lead to the failure of essential parts while flying and even lead to complete structural failure which may result in an accident. Corrosion on magnesium parts of the aircraft typically begins with pitting and etching on the surface combined with a gray or white powder. Magnesium skin corrosion is most likely to occur around the edges of the skin panels or in areas damaged by impact or drilling.
Things You'll Need
Plastic sheets
Tape
Water
Sponge
Paint stripper
Coarse sandpaper
24 oz. chromium trioxide
Container made of stainless steel, lead-lined steel or 1100 aluminum
Nonmetallic bristle brush, 0.010-inch diameter
Calcium sulfate
400-grit aluminum oxide abrasive paper
Primer
Paint
Preparation
Mask of areas that you do not want touched with plastic sheets and tape.
Clean the corroded area of dirt and debris. Using a wet, soft sponge scrub the area to remove dirt, oil or exhaust stains so that you have a better look at the entire surface.
Strip the paint from the corroded area. Use a paint stripper and rub with a coarse sandpaper to remove the paint.
Chemical Removal of Corrosion
Mix a chromic acid solution. The solution should contain 24 oz. of chromium trioxide mixed with 1 gallon of water in a stainless steel, lead-lined steel or 1100 aluminum container.
Apply the chromic acid solution with a nonmetallic bristle brush. Allow the solution to set on the area for 15 minutes.
Rinse the solution off the treated area. Use clean water and rinse thoroughly.
Hand Removal of Corrosion
Feel the thickness of the metal to be certain is will not collapse from hand pressure.
Remove the corrosion. Scrub the area with a bristle brush until all signs of corrosion have been removed.
Polish the area. Use a 400-grit aluminum oxide abrasive paper and scrub the area clean.
Reconditioning the Corroded Area
Apply a chromic acid brush-on treatment. The solution should contain 1.3 oz. of chromic acid mixed with 1 gallon of water and 1 oz. of calcium sulfate. Brush on the solution until the metal surface appears dull in color.
Apply the primer to the area and allow it to dry according to the product's instructions.
Apply the paint to finish restoring the area.
Remove the plastic from the protected areas.