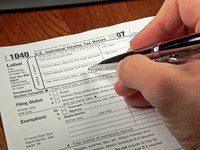 The federal Pell Grant Program provides need-based financial assistance to undergraduate and some post-baccalaureate students. As long as the money is used for school expenses (tuition and course-related costs) while in attendance at a participating post-secondary institution, the grant is not taxable and does not need to be reported. To the extent the funds are not used for education, they must be declared as income. How you report the money on your income tax return depends on which form you file.
Use line 21 on Form 1040 to enter the amount of the grant not used for education expenses. If this amount was not reported on a Form W-2, write "SCH" on the dotted line next to line 21.
Use line 1 on Form 1040EZ. Follow the same procedure as in Step 1.
Use Schedule SE if more than $400 is taxable. If so, you will have to pay self-employment tax on the money. The IRS considers Pell Grant money used for non-educational purposes as pay for your services as an independent contractor.