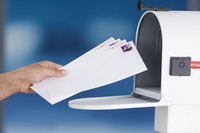 Your business name, trade name, or "doing business as" (DBA) name is the name your business will operate under. Your business's trade name will be the name on business bank accounts, credit accounts, and tax and property filings, not to mention your business cards. But before you hang out your "open for business" sign, you need to register your trade name in order to ensure there are no conflicts with other businesses that may already have the name you want. Registering your trade name is also necessary to legally protect your trade name.
Contact the proper state or local authority to obtain the necessary forms needed to complete the research and registration of your trade name. In most states, you will need to contact the office of the secretary of state. However, some states direct you to register your trade name in other offices. For example, in Delaware, register in the Superior Court Prothonotary's office; and in Florida, register your trade name in the Division of Corporations.
Many states make it possible to research and register a trade name online. And in some states, only corporations are required to register their trade names. In every state, however, your office of the secretary of state can offer you direction if their office does not offer trade name registration services.
Have your trade name researched. The offices that register your trade name will require that you have your name researched first. You can usually search their database yourself to confirm that your trade name has not already been registered. Though this is free, it can be time consuming and tedious. As an alternative, you can request that a clerk research the name for you. While there will be a nominal fee associated with the service, it is usually much faster and more convenient.
Register your approved trade name. Once you have determined that the name you want has not already been registered by someone else, you will need to complete registration request forms. In addition to your trade name, you may be required to supply information regarding the business address, description of the business, information regarding the business ownership and other relevant information (specific requirements will vary from state to state). When you submit the registration request form, you will be required to pay a modest registration fee.
There may be a turnaround time of several days to several weeks depending on the processing backlog the individual office. Be sure to ask how long the process will take. Once the office has registered your trade name, you will be sent a confirmation in the mail.