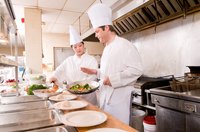 The ideal line cook candidate is confident and experienced but is also capable of putting his ego on hold effectively enough to skillfully execute a limited number of menu items without needling to show off or put his personal stamp on each dish going out of the kitchen. A line cook needs to be able to work well under pressure, in close quarters with other cooks. He should be clean, dependable and flexible enough to change positions when tasks get backed up in another part of the kitchen.
Ask your prospective line cook to bring a resume to the interview. Review the resume, checking to see whether she has worked at reputable establishments and whether she tends to stay at jobs for at least a year. Check how long she has worked as a line cook. Ask questions about items and trends on the resume, for example, if she has worked as a head chef or a sous chef, ask why she is now applying for a job as a line cook and whether she will be satisfied with this position. If she has held numerous jobs for short periods of time ask why her employment stints tend to be so brief.
Ask your prospective line cook what types of food he enjoys preparing and determine if these are consistent with the focus of your particular restaurant. Inquire about his personal assessment of his strengths and weaknesses. Look for answers that express both humility and self knowledge. Ask him about his ambitions and how the position you are offering fits with his overall goals.
Ask your line cook to prepare a dish in your kitchen. Either provide a recipe and ask her to follow it or provide a range of ingredients and ask her to innovate. Pay attention to her level of comfort and skill, taking into account the fact that she may be nervous about the interview. Evaluate whether her style is neat or sloppy, and whether she works slowly or efficiently. Note whether she makes the most of available ingredients or whether she cuts away and wastes more than she should. Taste the dish and ask yourself whether this is something you would want to serve at your restaurant.