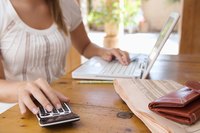 Screening for stocks based on specific criteria is a fundamental chore in the investing arena. Strategies are often based on stocks that meet certain characteristics and there are many variables. The performance of a company is a force in the future of a stock. So too are the isolated economic conditions that affect the sector of a given company. In the end, it is all about price. Some investors will only trade stocks in a certain price range. Searching for stocks by their price is an easy process.
Visit the Yahoo! Finance Stock Screener Web site http://screener.finance.yahoo.com, an industry-leading service for news and stock market information. Stock charts and company profiles are updated daily. The Stock Screener is a particularly advanced feature of the site that is available for free.
Launch the Screener application. The Stock Screener is a Java program that loads in a separate window. The web browser software you are using may be configured to request your permission before Java programs are launched. Accept the software and two new windows will open. The simple white window is a Java launch platform that does not interact with users. However this window must remain open. The second window contains the Screener application.
Click the Add New Criteria option under the Criteria column. Choose the Share Performance menu and select the first option, Current Price.
Choose a price condition under the middle column labeled Conditions. The price of a stock may be higher or lower than a specified number, or between two given prices. All three options are available.
Type the price for the criteria under the right column labeled Values. If you choose the"Between" condition, two value boxes will appear. Type the extremes on each end of the desired price range.
Add any other criteria to the stock screen, if desired. Price may be the initial condition, but further filters can include a screen for sector-specific stocks based on the desired price range. The number of active shares on an average day is a common criteria combined with price screening.
Click the Run Screen button. The results of the screen will appear below this button.
Resize the results area by dragging the bottom border of the stock list, if desired.
Note the total number of stocks found using your criteria. This information is shown directly under the Run Screen button, at the top of the stock search results list.