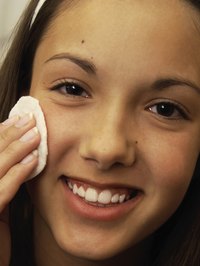 Home remedies can treat acne, but you should also consider behavioral changes: Eat a better diet. Limit the sodas, caffeine drinks and foods high in saturated fats. Eat lots of fruits, which are rich in antioxidants and vitamins. Consume more fish to get more Omega-3 into your diet. Always drink plenty of water, since the skin requires adequate moisture.
Things You'll Need
Honey
Lemon juice
Vitamin E oil
Baking soda
Egg white
Cotton balls
Mix honey, lemon juice and little bit of vitamin E oil. Apply it on your entire face. Leave it there for about 10 minutes, then wash your face with warm water. Do this every day. You'll notice that honey gives the skin a beautiful complexion. It fights bacteria and is a source of minerals.
Apply a paste of baking soda, water and lemon juice to your face. Leave it there for a minute or two. Then rinse and dry your face.
Make an egg white mask. Take a few drops of lemon juice and add it to an egg white. Add some vitamin E oil and mix well. Then get a cotton ball and apply it all over your face. In about 10 to 15 minutes, you should feel your face really tightening. Wash with warm water.
Apply vitamin E oil alone. Vitamin E can really be effective in treating acne. The oil prevents a lot of skin issues while treating skin wounds, cuts and cysts.
Use tea tree oil. It kills bacteria and fungi. Tea tree oil is best used for those with very oily skin. It will remove blemishes on the skin as well.