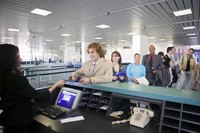 Everyone wants to get the best deal possible on their airline tickets. Fortunately, the internet has made tracking airline fares extremely easy. Several search engines will continually update you on airline fares for your destinations of interest after you register (free of charge). You can choose to sign up with several, or choose the one that fits your needs best.
Sign up for a free email or Twitter account (if you do not have one already), where you can receive alerts from airfare tracking services that you have registered.
Sign up with farecompare.com. Receive an update when the price drops on your selected flight. Follow farecompare's "flyfrom" Twitter feed, which offers location-specific fare sales when you plug in your home airport's three-letter code, as in "flyfromNYC."
Use FareWatch, an exclusive service at gofox.com, to help you track average fares and the current market leader for your itinerary. Select your cities and compare airfares. FareWatch offers unbiased, up-to-date information directly from the Department of Transportation. Create a free account and enjoy internet-only deals, as well as exclusive bonus offers.
Use yapta.com to help you track the lowest airfare prices before you fly and get airfare refunds if the ticket price increases after you buy. Sign-up through email or Twitter to have yapta track the price of your ticket and alert you of any price fluctuations. Call the airline to claim the credit.
Subscribe at airfarewatchdog.com to receive daily, frequently, or weekly email alerts about the lowest fares. Select which alerts you want to receive: from your departure city, to your destination city or city-to-city. Airfarewatchdog maintains that all of its low fares are found and verified by humans.
Use Bing Travel to help you decide when to purchase your airline tickets for the lowest fare. Select your cities and dates to find a Price Predictor, which can indicate whether the lowest fares will rise or fall during the coming week. Use Bing Travel's Smart Travel Search to easily compare flight results for hundreds of websites and to help you decide when to buy your airline tickets. Book your flight directly at the supplier's website.