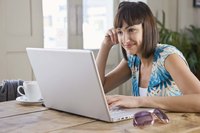 Navigating spam laws can be confusing for even the most savvy business professional. Email is often the most efficient, cost-effective way to reach out to other business contacts for the first time. Many business professionals are rightly concerned that the recipient could construe such an email as spam, since it was unsolicited. However, as long as you include a few important bits of information within the body of the email, refrain from sending repeated unsolicited messages to the same person, and send first-time contact emails individually rather than en masse, you can cultivate new contacts while remaining on the right side of CAN-SPAM laws.
Sending Business Emails
Send all email messages with a "From" address and a "Reply-To" address that are accurate and make sense. That means including your name or company name as part of the address and using an email address that originates from your business domain name.
Write your subject line so that it gives the recipient a good idea of what the message is about. Do not include misleading information in your subject line such as the promise of a free or discounted offer that you don't actually make in the message.
State clearly in the message that it's an advertisement, if that's what the message is. If the message is an effort to cultivate a relationship and you are just introducing yourself, then this should be clear in the language of the email.
Include your contact information in the email. Provide your mailing address within the body of the email message.
Provide instructions for the recipients to discontinue receiving messages from you. This is more important for bulk email messages like those going out to a newsletter list than it is for single points of contact. To be on the safe side, do include an opt-out offer for them to decline further messages. It's also smart to not send additional emails to a contact who doesn't respond to your first email. If you want to pursue the contact under those circumstances, make a call or send a letter.
Personalize your contact-development emails as much as possible. Send them one at a time to each business professional you hope to build a relationship with. Send emails only to businesses that make sense based on the product or services you offer. For instance, it makes sense for someone who cleans swimming pools to contact hotel managers at hotels with pools. It makes less sense for the same professional to contact restaurant managers.