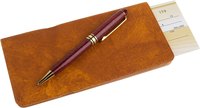 It's happened to most of us at one time or another: You've written a check and realize that you have to stop payment on it before it's cashed, or the check has been lost or stolen. While stopping payment on a check is easy enough to do as long as the check has not yet been cashed, it will usually cost you a fee. Be sure you want to stop payment on a check before following the steps below to cancel it.
Things You'll Need
Check number
Bank account number
Telephone
Call your bank. Have your check number and account number ready when you ask them to stop payment on it. Banks in the U.S. generally charge a fee to do this, usually in the $20 to $30 range; that fee can vary from state to state. However, some banks will waive the fee if a check was lost or stolen, and will only charge if the stop payment is for other reasons. Familiarize yourself with your bank's policies.
Go online. If you use your bank's online system, it may be possible to stop payment on a check online without having to make a phone call. If so, keep in mind the stop-payment fees would still apply.
Call the person, organization or business to whom the check was written. If the check has already been cashed, there is not much a bank can do. If it's possible to do so, you can call the party to whom the check was written to see if your money can be returned that way.