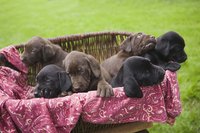 Writing a dog breeding contract ensures the best possible experience for the dogs' owners. The breeding contract will outline the terms of the dog breeding, as well as what happens to the litter of puppies. All questions, concerns and possible situations should be covered in the contract to give both parties peace of mind.
List the names, addresses and phone numbers of the owners of both the sire and the dam, the male and female dogs to be bred. Also include the registered names of both dogs, the applicable registration numbers and the date of the breeding.
Have any necessary medical examinations done before the breeding. Provide copies of the results to be included with the contract, and address any potential medical concerns in the contract. For example, if your breed tends to develop cataracts, indicate what will happen if the puppies are not show quality due to the cataracts.
Detail the conditions of the breeding. State where and when the breeding will take place and if any medical help will be necessary. Note how long it will take before you can establish pregnancy, and when the owner of the stud dog will be notified of the due date and the birth of the litter.
Include compensation requirements. In addition to a stud service fee, many stud dog owners will request the pick of the litter, choosing the best show-quality puppy before anyone else may purchase one. Indicate how old the puppies must be before they can be released to the stud dog owner.
Establish what will happen to both the show-quality puppies and the pet-quality puppies. Pet-quality puppies may not need to be registered, while show-quality puppies need to be registered and possibly have identification chips inserted by a veterinarian. State the prices that show and pet puppies will be sold for, and that they will not be knowingly sold to puppy mills.
Have both owners sign and date the contract when all terms are agreed upon in writing. Note that nothing can be changed unless both owners add additional provisions in writing and sign and date them at another time.