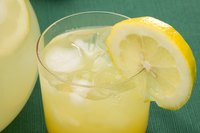 The Master Cleanse Detox Diet, first invented by Stanley Burroughs in the early 1940s, is traditionally done by mixing maple syrup with lemon juice, water, and cayenne. However, it can be done just as effectively by replacing the maple syrup with Agave nectar. Agave is sweeter than both honey and maple syrup, and can be used in a lesser quantity than either. An asset to the Master Cleanse Diet is that the Agave does not alter the taste of the lemons as severely as the maple syrup, creating a more classic lemonade flavor thus making the drink more enjoyable.
Things You'll Need
2 liters water
½ cup agave nectar
¾ cup lemon juice
½ tsp cayenne pepper
Combine ½ cup agave nectar with 3/4 cup lemon juice, ½ tsp cayenne pepper and 2 liters of warm water. Stir until completely dissolved. Warm water will dissolve the syrup more easily. Because Agave is sweeter than maple syrup and contains more sugar, it needs to be used in a lesser quantity than the usual ¾ cup maple syrup. However, you will still receive the base amount of calories your body needs to function.
Pour the juice into 2 1-liter bottles, such as large Nalgene bottles. Secure the lids and give a good shake. These are your only food source for the day, so ration it carefully throughout your waking hours. Take the two bottles with you wherever you go.
Drink the juice every time you feel hungry. Drink one large gulp of juice followed by two large gulps of fresh water. Make sure that you do not eat anything else during the day aside from the juice and water.
Finish the two bottles before bedtime along with at least two more liters of fresh water. The purpose of the Master Cleanse is to clear your body of unwanted chemicals and waste, and all cleaning of any subject (even pots and pans) requires water. Make sure to stay hydrated or your cleanse will be stunted and painful.
Continue the cleanse as one would with the maple syrup juice by flushing the intestines with the salt water every night before bed. As there are no solid foods in your diet, you will need to forcefully trigger a bowel movement. Mix 1 liter of warm water with 1 tablespoon of natural sea salt. Drink the mixture all at once if you can without tasting it. On the first try you will likely vomit. If you taste it, try plugging your nose. Unfortunately, liquid diets end with liquid bowel movements, so do not stray far from the toilet after the salt water potion.
Begin eating foods again. After 10 to 15 days of your cleanse regime (depending on your goal) you will need to begin to slowly introduce food into your system again. If you do not begin eating solid foods at a slow pace, you will likely make yourself ill. On the first day of reintroduction, begin by drinking orange juice. On the second day introduce vegetable and chicken broth, and the third start eating fruits and vegetables. Finally on the fourth day all food can be reintroduced, but be wary what you put into your clean body so you do not have to do the procedure over again.