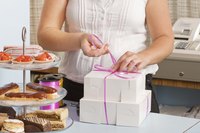 Looking for inspiration for the Italian bakery you plan to open? Head for Veniero's Café in New York City. A stop at this landmark bakery--plus samples of the shop's Italian and Sicilian cheesecakes, tiramisu, biscotti and a steaming espresso or cappuccino--may transport you to a Rome piazza. Of course, you're there to emulate, not gawk, so sample the baked goods, get home and put your business plan to work winning the hearts and sweet teeth of pastry lovers in your area.
Things You'll Need
Venue
Licenses and permits
Electrical audit
Business plan
Funding
Marketing plan
Check your stamina level to be certain you have what it takes—physically—to get up before dawn, lift, measure and cart industrial-sized bags, boxes and cans of ingredients from open to close. That's the kind of grueling schedule that Italian bakery owners will be glad to verify.
Pick a shop location that offers plenty of foot traffic and falls within your budget. Ideally, find an existing bakery that's going out of business and negotiate a turnkey sale that provides a solid physical base from which to launch your Italian bakery operation.
Write a business plan. Determine how your Italian bakery will fit into the commercial mix of the neighborhood you've chosen. Draft goals, objectives, a start-up budget, an analysis of your competitors, a marketing plan and an operational overview. Obtain funding based on your needs. Track down used commercial machinery and equipment (see link below) rather than buying new. Contract with at least two wholesale purveyors you'll need to supply ingredients for your cannoles, biscotti, Italian cookies and pastries.
Hire a professional electrician to audit your baking, cooking and refrigeration wiring, electrical junction boxes and outlets--especially if your Italian bakery is to be situated in a vintage building that may have served a single occupant for decades--to be certain your power supply is up to code and safe.
File for licenses and permits. Anticipate local health department authorities, fire department officials and other inspectors to drop in to inspect your facility as it's being readied for opening. Pay attention to tips on sanitary practices, washing stations and other advice so you don't flunk mandated pre-opening inspections that could affect the granting of your licenses.
Begin marketing your Italian bakery. Hang signage in the window to announce your grand opening, display Italian flags so passersby associate your shop with its ethnic flavor and enlist help with the shop's colors and décor. Whether you texturize surfaces to replicate traditional Italian village walls or fill the area with travel posters, you'll set the right tone for your shop.
Make your new bakery a shining example of Italian cuisine, customer service and charm. Pay particular attention to customer requests for new and delicious ethnic pastries and find ways to attract customers by introducing gimmicks like teaching the Italian word of the day, playing traditional music and being the local gourmet ambassador for all things Italiano. It won't take long before you realize that your passport to customers' tummies and hearts is just as much about heritage as it is about your bottom line.