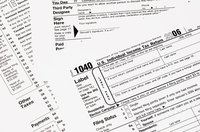 Deducting unreimbursed expenses incurred while doing your job is possible regardless of whether you are a salaried employee or an independent contractor. However, the rules for deducting work expenses differ for both categories. Employees face much greater restrictions than self-employed taxpayers on what they can deduct.
Consult your human resources department or check your year-end tax forms if you are unsure of your employment status: salaried employee receiving W-2 wages or independent contractor. If you received a 1099, you are self-employed. If you received a W-2, you are an employee.
Total all your unreimbursed work expenses. If you are an employee, you must complete Form 2106 and carry this amount over to the Schedule A of your tax return. If you cannot itemize deductions, then you cannot deduct your work expenses. If you do itemize, only unreimbursed expenses exceeding 2 percent of your annual gross income are deductible.
If you are self-employed, complete Schedule C and list all your expenses. There is a category that encompasses virtually every type of expense that is ordinary and necessary to your business or self-employment. It is possible for your expenses to exceed your total income. Authors and artists also use this form to deduct expenses related to their professions.
Complete Schedule E if you have expenses related to rental or royalty activities. All landlords must complete this form to report the expenses they incur from maintaining their rental properties.
Complete Schedule F if you have farming income or expenses. This form lists all the expenses related to farming activities, whether agricultural or livestock-related.