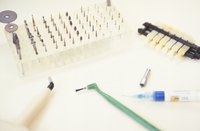 Dentistry has come a long way from the days of bulky removable dentures and mercury tooth fillings. Dentists, orthodontists and periodontists need a vast array of supplies and equipment to improve patients' smiles. It takes state-of-the-art equipment to put in those implants, fixed bridges, caps and veneers. Dental equipment manufacturers or dentists who want to sell used equipment can choose from a number of ways to put their goods on the market.
Contact online dental equipment stores. If you represent a manufacturer or distributor looking for new sales avenues, look up web stores specializing in dental equipment. Some sell new equipment, while others sell both new and used dental tools, chairs and office furniture. Some of the online stores may also have a showroom for on-the-spot retail sales or demonstrations.
Sell equipment using on-site sales calls. Bring samples of dental implements like drills, curing lights and handpieces to dentists to their office at their convenience. Use an online appointment form on your website, mailed brochures or a 1-800 phone line to set up a presales meeting dialogue. Make cold calls to the dentist's office early in the day or before closing time, or drop off a business card and brochure with the receptionist.
Rent a retail location or showroom. Choose an easy-to-reach location by a major expressway or similar area so dentists and office managers can inspect equipment in person before buying. Offer equipment repair, dental office design and other services to give dentists several reasons to maintain contact with you and make repeat purchases.
Sell used dental equipment with a liquidation service. There are many dental liquidation services that specialize in purchasing equipment from defunct dental practices or simply purchasing used equipment.
Use eBay or a dental equipment auction service to sell equipment. Dental supplies are sold through the business and industrial/healthcare section of eBay. You can reach dentists directly by placing classified ads on sites like LabX, which offer a place where sellers place classified ads or offer equipment for auction. This is a great way to reach interested buyers directly.