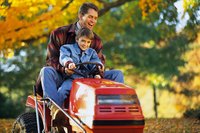 The Craftsman brand name is used by Sears for a variety tools and lawn care equipment. The Craftsman garden tractor can make quick work of cutting your lawn, but only if the blades are sharp and in good condition. Blades can be resharpened, but after a few years of use they will need to be replaced. A blade may need immediate replacement if the tractor is run over stumps or other obstructions while mowing.
Things You'll Need
Wood blocks
2 car ramps
2 wheel chocks
Putty knife
Heavy gloves
Adjustable wrench
Mower blade or blades
Raise the front of the tractor to gain access to underneath the mower deck. Do this by driving the tractor onto wooden blocks or car ramps. Set the parking brake and chock the rear wheels to prevent the tractor from moving while you are working under it. Remove the key to prevent accidental starting of the mower.
Use the deck height adjustment handle and raise the deck to its highest position.
Use a putty knife to scrape excess mown grass from the mower blade (Some Craftsman mowers have twin blades) to reveal the holding bolt. Wear some heavy duty gloves and grasp the mower blade to keep it from turning with one hand. Use the other hand and remove the holding bolt at the center of the blade and turn it in a counter clockwise direction with an adjustable wrench. Repeat this procedure for multiple blades.
Lower the blades from the mower deck and discard them.
Check the marks stamped on the new blades to insure you install them right side up. Hold the blade into position and thread the holding bolt in and tighten it with an adjustable wrench in a clockwise direction. Hold the blade with a gloved hand to keep it from turning while tightening the holding bolt. Repeat this procedure for multiple blades.
Remove the wheel chalks and back the tractor off of the blocks or ramps.