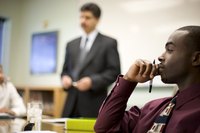 Creating and maintaining an ethical workplace culture starts at the top of the management chain and trickles down throughout the organization. Ethical leadership is about character, performance and principled behavior. When employees see these values in action on a daily basis, they tend to model after management. A strong ethical culture makes business sense from a compliance perspective, and it protects the company physically and financially. There are many things you can do every day to build an ethical workplace, from creating a code to making it come alive in everything you do.
Begin with a crystal clear code of ethics. Write it down like a mission statement and make every employee aware of it. Be sure leaders model the code every day in visible ways. Each employee needs to have a personal ethics code as well that maps to the corporate code. Have an exercise in which each employee writes down five components of their personal code and then see how it compares to the company's ethical code.The corporate ethics code can be an organic document that is revised as needed to meet changing business requirements, so long as any changes are well communicated throughout the organization.
Make the code come alive. Cultivate leaders who create a culture of character and support a continuing discussion company-wide that makes ethics a top priority. That includes having regular town hall meetings on building an ethical culture. It also includes publicizing 'case studies' of leaders in different business situations that embody a culture of character that employees can model on.
Make ethics job one every day. Don't allow ethical issues to be separated from everyday business practices. Create a culture where ethics are each person's responsibility. As an exercise, do role-playing in your organization whereby you are trying to solve difficult business issues with each person noting the impact of adhering to your ethical code. Study how ethical lapses have brought down companies as big and powerful as Enron, and how to apply lessons learned from such debacles to avoid them entirely in your own organization.