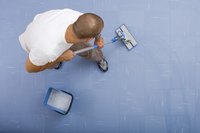 Discovering contract opportunities is critical to nearly every service company. Janitorial services companies are no different in this regard. On average, commercial contracts with custodial care companies are short-lived and there is a need to not only work on the established customer to renew the current services but to find new customers and service contracts with greater longevity and profitability. The current economy also demands a healthy balance between private sector customer elements and government customer elements in order to ensure revenue generation through exceptionally hard times.
Things You'll Need
Computer (MAC or PC)
Printer
MS Office software
MS Explorer or Safari
Commercial Business
Advertise to the local community. The best way to get additional business from the commercial sector is to advertise locally or regionally, relative to the size and performance area of your company. For local business interests, advertising in local newspapers and on television appears to be the most effective form of marketing.
Join community organizations. One businessman credits his success to being a member of the local Rotary Club and the Masons. Social fraternities permit businesspeople of all sorts to mingle, exchange ideas and market their goods and services in a way that some of their competitors can't. For a company that provides custodial services, membership in such organizations can, and often does, open doors in not only the private sector but also in state and local government. Rules governing procurement by municipalities and counties are not as strict as they are for the federal government, and success often boils down to who you know not what you know or the quality of your goods.
Become a green company. Many large businesses are required, through any number of contractual and regulatory conditions, to hire support companies that are environmentally friendly. It is not a hard certification to get, and the benefits go a long way for janitorial companies that are well-known for using green detergent and polishing chemicals. This is true for every state and federal agency as well. Special preference in contracting is given to certified green companies.
Attend industry-specific conferences and trade shows. It isn't necessary that a booth be purchased and manned, but that a representative of your company is present to mingle and hand out literature about your company. These activities afford great visibility and opportunities to speak with high-value purchasing agents and potential client corporations. Marketing to a large group of contained potential service customers is greatly profitable and encouraged.
Government Business
Get a Data Universal Numbering System (DUNS) number. Any company that desires to do business with the U.S. government must be registered with Dunn & Bradstreet and have a unique DUNS number issued to it. In the business world, D&B is like Equifax for individuals, in that it reports on the credit status, financial status, siz, and other important data regarding worldwide businesses. The government and many large corporations access the DUNS on any company they are interested in for the purpose of determining quality of services and financial stability. Getting a DUNS number is free.
Get your company registered in CCR. CCR is the government's Central Contractor Registration, and the government is prohibited from contracting any business that is not registered with it. The CCR database contains important information companies, including past performance reports on previous government contracts. This is how the government tracks actual and potential vendors, which are ranked according to age, experience and performance ratings. When you register your company with CCR you will be issued a CAGE Code. This is the official identification for your company with all federal contracting agencies. Registering with CCR is free.
Register your company and its services on the Federal Business Opportunities site. The FBO website is run by the federal government and lists all contracting opportunities available for all industrial areas. This is where you will find all available contracts to bid on with the federal government. Here, you can search for opportunities anywhere in the United States, discover contracting office information, and receive email alerts on new solicitations in your industrial area. Registration and bidding through this site is free.