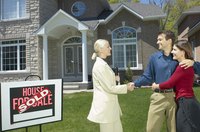 When you prepare to either buy or sell a home, it is important that you find the right Realtor to work with. You want someone who is professional and knowledgeable about the local market and the negotiating process. It is also important to find someone who will work well with you as you will be working closely for the next few months. It will be helpful to get feedback from others and to read reviews from people who have previously worked with the Realtors.
Ask your friends, family, neighbors and people in your community who you know have bought or sold real estate lately. They will give you a review of their experience and what they thought of their Realtor. A personal referral is always the best way to go.
Visit or call the most active real estate offices in the area in which you wish to buy or sell. Talk to the manager about what you are looking for. The manager should be able to get a sense of who you are and what you are looking for and will be able to pair you with an agent that he thinks is a good fit. He may also recommend a few agents and give you reviews of each, allowing you to choose. He will base the decision on the specific area you are looking in and which agent you may have something in common with.
Search the Internet for reviews of Realtors in your community. There are a number of websites dedicated to giving reviews in general and some that give reviews specifically of Realtors. Yelp is a general review site that includes Realtors, and Incredible Agents is a website dedicated to reviewing only Realtors. Enter your city and you will see a list of reviews for Realtors in your area.