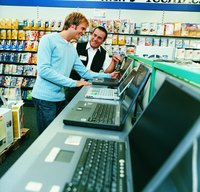 The computer industry is bigger than ever, and lots of people are getting in on the game. Whether you want to sell computers in your neighborhood or over the Internet, you'll need luck, skill and determination to succeed. However, if you play the game right, you'll be able to be your own boss while making a profit doing what you love.
Things You'll Need
Federal tax ID
State tax forms
Niche product
Incorporate a company. Although you can do business as yourself, you'll often be taken more seriously--and given better deals--if you work under the name of a corporation.
File tax forms with your state. Most states charge sales tax, so to sell in your own state you'll need to register as a retailer. This usually means that you won't be charged sales tax on purchases you make from distributors, but you will be required to collect it from your customers.
Find distributors and apply for accounts with them. You may need to apply to a very large number of distributors before you find one that's interested in doing business with a start-up. Some computer manufacturers offer retailer rebates that you can apply for in addition to any discounts you might get from your distributor. Look for distributors that offer good prices on those products.
Set up a storefront. This could be a physical location, which you will need to rent, or an online store. Nowadays, people even make a living selling on eBay--one of the easiest storefronts to use. Make sure you look into the fees associated with whatever selling channel you decide on.
If you decide to use a physical storefront, make sure there aren't too many computer vendors nearby--even if they have a different product line, customers might have trouble telling you apart, and go with the store that's been there longer.
Buy some inventory and start marketing it. Soon, you'll make your first sale! However, you may have to take a loss on your first few sales, because you won't have great deals with suppliers, and you're still learning the ropes.
Start adding value. It's unlikely you'll be able to make money just by reselling boxed goods--if it were that easy, Amazon and Walmart would probably have already done it. Look for ways to set yourself apart from the competition. Maybe you can provide local in-home service with a personal touch. Or maybe you can make a website that lets people find what they need for a particular kind of task that you know well. As a small player, the key is specialization: take on market segments that are too small for the big players to notice.
Keep going, stay adaptable, and hire help. You'll have to work very hard, and rewards won't come immediately. Even if your business plan is excellent, you'll still have to make a serious commitment to running your business. Once you've got things sorted out and you're making a profit, hire some people to help you run the day-to-day operations, so that you can expand your business while still having enough time to keep your eye on market opportunities.