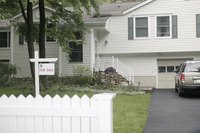 Purchasing a rental property allows you to build wealth for the future. Unless you can pay cash for the building, you'll need to decide how you will finance a rental property. Many lenders will only lend 80 percent of the contract price of a home, meaning you must figure out where to get the other 20 percent. If you have home equity, consider using it to finance the rental property.
Things You'll Need
Home or property with equity
Good credit
Lender
Realtor
Contract on rental property
Use Home Equity to Purchase Rental Property
Before using equity to buy rental property, determine the amount of equity you have in your current home or other property by subtracting your mortgage balance from the appraised value of your home. Keep in mind that many lenders will not let you borrow the full value of your home. Leave a buffer of 20 percent equity in your home to appeal to the best lenders.
Contact your mortgage lender to discuss your plans. Some lenders will not allow you to borrow from another lender. Many times, the lender granting the equity loan will not advance funds without the approval of your primary lender.
Find a rental property to purchase, keeping in mind the amount of equity you have available for a down payment. Make an offer on the home, but stipulate in your contract that the offer hinges on finding favorable financing. This way, if you and a lender can't come up with a favorable agreement, you can back away from the contract. Your realtor should help protect your rights during this step.
Compile financial information for the bank. In addition to personal tax returns, provide information on the rent you will charge, monthly expenses and yearly expenses, including taxes and insurance. Include all the information you used to make your assumptions. The more professional you present this information to the bank, the better your chances of securing a loan.
Get quotes from multiple lenders; having one or two banks competing for your business may help you secure a lower rate or more favorable terms on a loan. Try both mortgage brokers and individual banks to get the best variety of quotes.
Choose a lender. Take steps to understand the terms of the loan. Don't just select the loan with the lowest rate; check for hidden fees, and do not select a loan whose terms you do not understand.
Close on your loan. (This typically takes 30 days.) You may have to have your home reappraised, the cost of which will apply in addition to any closing fees and expenses incurred on the primary mortgage of your new rental property.