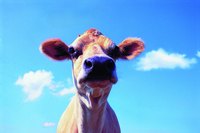 Alfalfa hay is a good choice to feed high-production dairy cattle, such as jersey cows. The hay is high in both protein and calcium and low in fiber. Dairy cattle that consume low-fiber hays produce more milk. Because the fiber content of alfalfa increases as it matures, it is best to feed jersey cattle hay that has been harvested before it matures.
Things You'll Need
Alfalfa hay (harvested before the early bloom cycle)
Mineral mix
Select alfalfa hay that has been bailed prior to the early bloom cycle. (Alfalfa bailed before blooming has the lowest fiber and the most protein.) Purchase only hay that has been stored in a dry barn, so that it is free from spoilage.
Place hay into feeding troughs at established feeding times. Because alfalfa is lower in fiber than grass, cows find alfalfa tastier and will prefer the hay rather than forage for grass (and thus will yield more milk).
Include a mineral mix with your hay or a salt lick to supplement your alfalfa hay diet.
Provide a constant supply of water for your cattle along with hay. Water may be provided from a stock tank or farm pond.