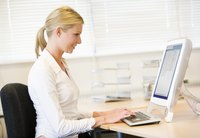 QuickBooks is a boon to small business owners and office personnel who may not have a strong background in accounting or bookkeeping. When it is properly set up, QuickBooks is like an easy-to-use and remarkably reliable bookkeeping system. One of the program's key features is its high potential for customization. You can customize reports, invoices and other templates. You can even rearrange the order of items on an item list to better organize your records.
Choose "Lists" at the top of the screen. A drop-down list will appear.
Select "Items" from the drop-down list. You will see the "Item List" dialog box.
Position the mouse pointer on the small diamond preceding the list item you want to move. The diamond is quite small, so you will have to be precise about placing the pointer. You will not be able to shift item order just by placing the pointer on the item name.
Drag the item up or down on the list. You can move both items and subitems to any position you like, from last to first, from first to last, or anything in between. Moving items up and down will not change their place in the hierarchy. Subitems will still be subitems, for example.
Drag the item to the left or right to change its position in the hierarchy. If you decide you do want to change a subitem to a main item, drag it to the left margin of the box. Conversely, to reduce a main item to a subitem, drag it to the right.