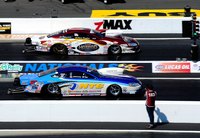 Starting a hot rod business would be a dream come true for many car enthusiasts. Being able to impart wisdom while selling the parts others need to create the dream car of their own would hardly seem like work for many individuals. Starting a hot rod business is relatively simple; however, there are many aspects to consider. Do you want to sell hot rod parts or simply build cars for others? Do you want to restore old cars or build completely unique ones?
Determine what kind of business you want to start. There is plenty of money to be made by selling custom-made parts or reselling parts made by trusted hot rod manufacturers; however, this niche can be somewhat difficult to break into. There are many hot rid parts sellers and resellers in the market today, making competition fierce.
If it is a hot rod shop you wish to start, deciding what your focus will be will determine who you're customers will be. Restoring old cars to mint condition while preserving their historical integrity is a popular focus for some hot rod shops, while others choose to be a bit more creative with projects.
Determine your venue. If selling is your thing, choosing where to sell can make a big difference in the way you conduct business. Online sales will require the development of a website, obtaining a merchant account for payment, creating supplier accounts to obtain inventory and using plenty of online marketing. Retail establishments require a bit more to start up. You will need to locate a facility, apply for a business license as well as a sales and use tax number, obtain insurance, obtain physical inventory and begin a marketing program. Cost-wise, it is quite a bit more expensive to start up a retail business; however, the ability to interface with your customers on a more personal level allows you to build a more loyal customer base and enjoy more repeat sales. Not to mention, car guys simply like to hang around other car guys. There is a lot of useful information about building cars that gets passed around hot rod parts stores. Benefits like these cannot be duplicated online.
If you are more into the hands-on aspect of building hot rods, you'll need a shop, some equipment and a few good places to purchase parts. You could probably use a couple of employees, though these are optional, at least during the start-up phase.
Attract customers. As with all business ventures, a hot rod business is only as good as the customers who buy what you are selling. This means that no matter how great your website looks, or how friendly your storefront is, or even how great your cars look when they sit in front of your shop, if you don't have customers paying for your goods or services, your business will not survive. In order to attract customers, start generating buzz. If you're selling online, join some car forums and participate. This means you aren't simply spamming the board with pleas to visit your site, but you read and respond to posts, all while mentioning your site. You can also market your site on social media sites like Facebook, Myspace and Twitter. This will help drive traffic to your site. Retail stores and hot rod shops have the added ability to market locally. Word of mouth is the easiest way to draw people in. Hold an open house and allow people to browse your store or shop, answer questions. Place fliers and business cards out there and get your family and friends to promote your new business.
Commit to quality. No matter if you are selling, reselling or building hot rods or parts, quality is the key to success. This means each part you are selling is a quality part or the cars you build are solid and dependable. You must be willing to stand behind your business and make sure the customer is satisfied with each and every transaction. Your reputation is everything when it comes to building a successful hot rod business.